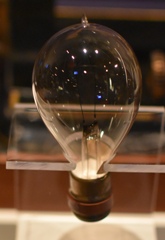 The light bulb invented by Edison
Thomas Alva Edison was a great man who revolutionised the world by inventing the very thing which is probably hanging on the ceiling on top of your head right now – the humble but crucial lightbulb! You walk by it in the street and don't even regard it but it is amazing how this simple invention changed the world.
Having had a very limited formal education and started his career life as a railroad worker, what Edison achieved was remarkable.
I am quite facinated by how the light bulb works. It is a very simple theory but has a powerful outcome!
It consists of special, heat resistent glass, filament ( a strong wire) and a holster, sealed up to store a special "argon gas".
Here's a diagram I made!
But how does filament give out light? This is how!
( The argon gas in the bulb is to stop the filament from overheating and burning away!)
Did you know? By the time he died on October 18, 1931, Thomas Edison had amassed a record 1,093 patents: 389 for electric light and power, 195 for the phonograph, 150 for the telegraph, 141 for storage batteries and 34 for the telephone.
So let's thanks him – otherwise you would be still reading books by candle-light!