The history of music, as you would expect, dates back a long way. However, many people don't know the incredible age of the art. On this musical and melodious trip through time, I shall now present:
Nothing.
Now you may be wondering – "Hey! Where's that ancient instrument I was promised?" Well, evidence suggests that the first music was using biological sound outputs, or in simpler terms: singing, clicking, shouting, humming, whistling e.t.c. (basically your average pop-star, but a bit more… caveman-like. Now…the instruments!
The first instruments were woodwind or instruments that require an input of air in order to produce sound. Using carbon dating, scientists in   Ulm, Germany found a supposedly 35,000-year-old flute made (keep in mind it was made entirely by human hands) by a vulture's wing bone.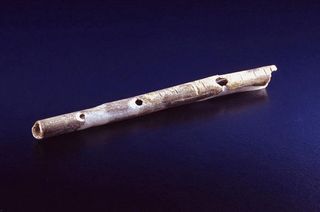 The prehistoric age is considered to have ended with the development of writing, as history could then be written down. However, along with the age of writing, came the age of music notes. At that point, the first music was being written down.
Around 1250, Franco of Cologne invented a system of symbols for different note durations, which consisted mostly of square or diamond-shaped black noteheads. And then … one of the first music notations looked like this!
(I'll give you a prize if you can play this. I can't even read it!)